A stratified prehistoric site on the Peninsula of Pelješac,near Ston,is one of those archaeological sites which has been for many years arousing a great interest of expert and scholarly opinion.
The cave is located above Ston(about 40 km NW from Dubrovnik) in the mount Porače massif,400 metres above the sea level.The entry into the cave is oriented towards the sea,and from the outer side of its entrance it gives an exceptional view of the surrounding countryside and beyond the major part of the Southern Adriatic and its hinterlands.
The site was revealed by Vladimir Milosavljević,Ph.D. professor at the Department of Archaeology atthe Faculty of Philosophy in Zagreb,while an elaborate unearthing was carried out by Spomenka Petrak.In the course of the archeological excavations caried out between 1963 and 1968,around 150m² were researched,while during 2004 yet another 11,5m² of the interior part of the cave,which comprised the largest part of an area fit for human habitation in this prehistoric site.Based upon observations during research and analysis of the collected archaelogical material remains,especially the pottery finds,it was ascertained that the cave was not lived in permanently,therefore its use was interrupted on a larger and smaller scale.In spite of these interruptions the layers have been created,offering an insight into a major part of prehistory in the Adriatic basin,therefore,it is posible to separate all the layers which kept emerging in the course of various time periods:
I-Early Neolithic
II-Midlle Neolithic
III-Late Meolithic
IV-Early Eneolithic
V-Advanced Eneolithic
VI-Early and Middle Bronze Age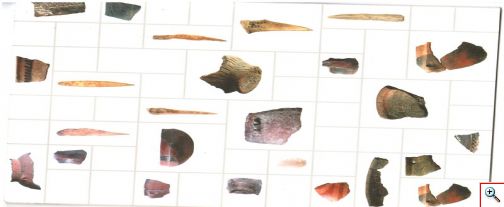 Archaeological site can now see.The exhibits from the cave Gudnja exhibited in the Archaeological Museum in Ston built Duke´s Palace.