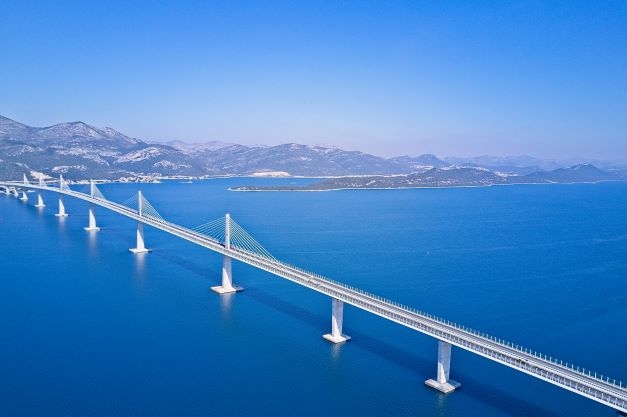 Pelješac bridge is officially open!. It connects the south of Croatia with the rest of the country, and the historical event was marked throughout the day with a program that took place on two sides of the bridge - at the Brijesta and Komarna rest stops. The main opening ceremony started at 8:15 p.m., and culminated around 10 p.m. when Nevera by Rimac was the first to cross the bridge with spectacular fireworks.
At the rest area on the Pelješe side, autochthonous products of the Pelješe region were presented, and cultural and artistic societies entertained all present visitors with their performances - Ponikovska Poskočica, Bijeli maškari and Glazba Ston.
The bridge, whose entire steel-concrete construction below and above the water together weighs as much as 30 Eiffel Towers, is the largest Croatian infrastructure project financed by EU funds with a grant of 357 million euros (85 percent of the costs) and several governments worked on it.
Pelješac bridge is in the Dubrovnik-Neretva County in Croatia that bridges the Mali Ston bay between Komarna on the mainland and Brijesta on the Pelješac peninsula, thus achieving the continuity of the territory of the Republic of Croatia by road, interrupted by a narrow corridor through which Bosnia and Herzegovina reaches the sea near Neum.